A response to Addie Zierman's new book, Night Driving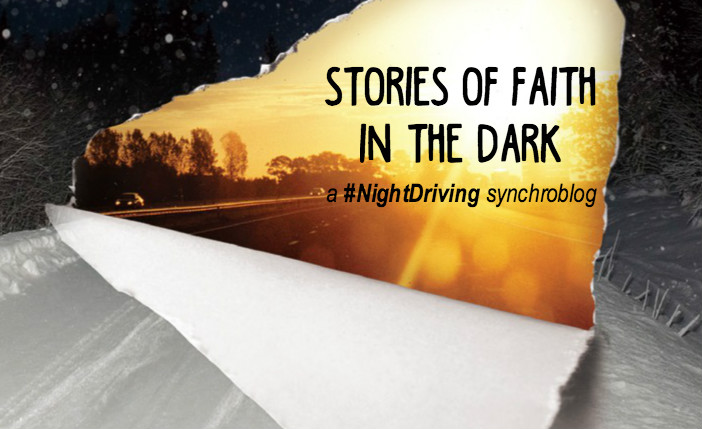 What great news. Addie Zierman, that great blogger and author of a compelling memoir about the shallowness of evangelical certainty was coming out of distant Minnesota to our odd corner of North Carolina, and we could go see her. But as the day drew closer, I began to fear. She'd come, read from her book, and go away again, and I'd never have a chance to say how I'd connected with her words. Or if I did have a minute, would it come out clear, or all tangled up. So often I have this image of something to say that looks so clear and compelling, but putting it into words comes out such a mess. Or perhaps worst of all, I'd manage to be adequately coherent, she'd listen and politely smile, say that was all so very interesting and then disappear, not getting a word of it.
After all, who was I to attempt to talk to her? She's a celebrity. A blogger that people actually read, a writer with a real published book that is sold in bookstores. Who was I? A blogger no one read, a self-published writer whose book hadn't sold. But surely, my heart whispered, she ought to know how much it would mean to me if she listened and accepted my thoughts. She'd validate my existence, let me know I counted for something, was on the right track. But if she didn't, if she snubbed me, could I handle the disappointment?
When she posted on her blog that she was cancelling her Charleston appearance because she just couldn't fit it in, I wondered if she would soon cancel the Charlotte stop too. Maybe it would be just as well. Less risky. But the blog post affirmed she was keeping the Charlotte date. So maybe it was up to me to decide to stay away, keep hidden. But I decided to go ahead.
Addie in person was pretty cool. She recognized me, just because I'd commented on her blog and Facebook. She read from her book, then summarize what happened between that excerpt and the next one she'd read, and her extemporaneous summaries were as articulate as her written text. In the QA my wife got to tell her story of reading Addie's book just at the right time to encourage someone else. And I learned another intriguing detail. Not only had she come to Charlotte, but she was actually staying just a few miles from our house miles south of Charlotte. The kind of odd coincidence that any evangelical knows has to be a God thing. (Aside: Why do we do this? God makes and arranges so many unique circumstances, but we only celebrate the oddly coincidental ones. Aren't the other ones any less his handiwork?).
So that was the darkness I wandered in, feeling I needed Addie's attention to be whole, to be noteworthy. Oh a celebrity, so grand, so far above me. How wonderful if she should look down from the heights of fame and notice me — then my life would be worth something. But faith reminds me my life is truly worth something; God looks down from the heights of heaven, and not only sees me, but longs for and invites me to relationship.

The new book, Night Driving is her story of this road trip. I can't wait to get to the part where she gets to Charlotte and meets me :)
My other posts about Addie Zierman
Addie Zierman and the Second World War
Addie Zierman
The Happy Middle